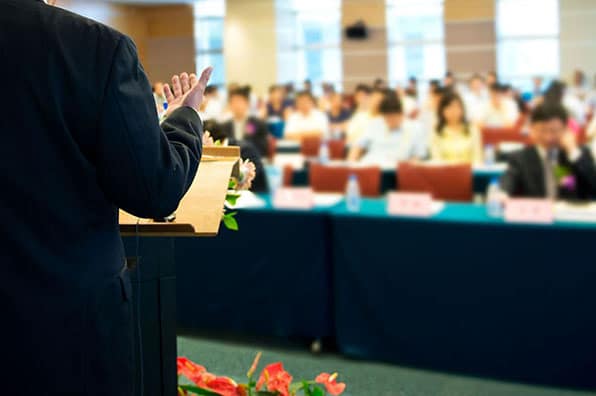 Winter 2016
By: Stephanie Lieb
As seen in 11th Circuit Historical News, Volume XIII, Number 3, Winter 2016
July 15, 2016, marked a momentous occasion for newly minted United States Bankruptcy Judge Roberta A. Colton, as well as the Eighth and Eleventh Circuits. The formal investiture for Judge Colton, held in the 17th floor ceremonial courtroom of the Sam M. Gibbons United States Courthouse, was not your run-of-the mill bankruptcy court investiture. Indeed, federal judges sitting in the Middle and Northern Districts of Florida were present to welcome their new colleague, with Chief Bankruptcy Judge Michael G. Williamson presiding. The court also welcomed Eighth Circuit Judge Duane W. Benton from St. Louis, Missouri, who administered Judge Colton's oath of office.
Eighth Circuit in Florida you ask? This bankruptcy judgeship is an unusual one.
Judge Colton was appointed to fill a vacant South Dakota authorized judgeship that has been loaned to the Middle District of Florida to ease the per-judge caseload in the district. The Middle District of Florida is, historically and currently, a very busy court. In fiscal year 2015, it had more than 30,000 bankruptcy filings, more than three times the national average. This ranks the Middle District of Florida as the fourth-busiest district in the country with regard to workload, just behind the Central District of California. By comparison, the District of South Dakota had approximately 1,200 bankruptcy cases filed in fiscal year 2015.
Assigning the South Dakota vacancy to central Florida was a creative solution that "properly aligns the judicial resources of the United States," Eleventh Circuit Judge Charles R. Wilson explained. "Judge Colton's official duty station will be in the District of South Dakota, but she'll be treated as a resident judge in the Orlando Division of the Middle District of Florida for case assignments."
Judge Williamson further recognized Judge Benton's "key role (in) facilitating the long-term inter-circuit assignment of the South Dakota authorized judgeship to the Middle District of Florida." This initiative was accomplished by an inter-circuit selection committee, which created a memorandum of understanding between the circuits. The Eighth Circuit had a longstanding bankruptcy judge vacancy, and Judge Karen Schreier of the District of South Dakota, who serves as chair of the Judicial Conference's Committee on the Administration of Bankruptcy Courts, suggested the reallocation of this resource to another district in need.
Judge Colton interviewed with the Merit Selection Panel, which included representatives from both the Eighth and Eleventh Circuits. Judge Wilson commented that through the selection process she "demonstrated why she earned the reputation as one of the premier bankruptcy lawyers in the Middle District of Florida, if not the entire country. She brings to the court experience; she brings intelligence; she brings compassion; she brings integrity, wisdom and courage."
Scott R. Lilly, a bankruptcy practitioner and opera tenor, delivered a beautiful rendition of the national anthem to open the ceremony.
Fr. Timothy C. Corcoran, III, a former bankruptcy judge and now a Roman Catholic priest, set the tone of the ceremony with an opening prayer.
Chief District Court Judge Steven D. Merryday addressed the large crowd, sharing what he termed the business of a judge: ensuring equal justice under the law. "(D)isputes entrusted to the judge are typically disputes between persons whose resources and whose abilities are not equal, between persons whose resilience is not equal. The business of a judge, at least in part, is to disregard or to supersede that inequality and to receive the contending parties in court as equal under the law."
Next, three of Judge Colton's colleagues offered heartfelt thoughts to the crowd. Harold W. Mullis, Jr., of Trenam Law, who recruited Judge Colton to Trenam Law 33 years ago, spoke of her extraordinary work ethic and dedication to the firm, from a young associate to a member of the firm's management committee and executive board. He shared proudly of his former pupil "(w)hat is not as well-known is the hard work, the drive, the sacrifice, the all-in attitude, the laser focus that she brings to her work day in and day out. Those qualities produce in court and with clients a seemingly effortless excellence. … Robbie stands out as a measured, fair, respectful and uncompromisingly honest person."
Next to speak was one of her dearest friends, Russell M. Blain of the law firm of Stichter Reidel Blain and Postler P.A., whom she has practiced alongside and against for most of her career. Blain shared a history of Judge Colton's upbringing and journey to the bench. One of his first encounters with her was during an airplane leasing company's Chapter 11 case, when he learned that "behind the steely, stoic demeanor of Roberta Colton lies an amazing mind, an indomitable spirit, a heart of kindness, the patience of Job and a word you can always trust. And in the process was our cherished and lifelong friendship."
Stephanie C. Lieb, who was recruited by Judge Colton to Trenam Law and worked under her for the last eight years, concluded the colleagues' remarks by emphasizing the qualities she admired in Judge Colton that translate particularly well to the bench: Work harder and be more prepared than the opposition, keep calm, maintain your integrity at all costs, be creative and open-minded, and be kind.
Bankruptcy Judge Karen S. Jennemann, who shared her law school experience with Judge Colton at the University of Virginia, welcomed Judge Colton to the bench and to the Orlando community.
After thanking her family, friends, colleagues, and fellow judges, to the surprise and delight of all in attendance, Judge Colton delivered her remarks in the form of a rap inspired by the Tony Award-winning Broadway musical "Hamilton":
How does a bookish girl from New York City
Grow up so fast and get so giddy
Watching Court TV, dreams of being Judge Judy
And then she went to law school and learns about duty.
Reason, honor and the rule of law,
Who knew that being nerdy was not a flaw.
Starting at the knee of the great Judge Hill,
He taught her about justice and she got a fill
Of patience, smarts and a lot of common sense
He taught her how to listen … not be dense.
Later at the firm when she would go astray
The partners would inspire her to work − not play.
Working for the man was a big firm theme
But it didn't seem like work, if you know what I mean.
So now she's on the bench, and she always wears black
And she tries real hard never to talk back.
To the lawyers and the debtors who appear to abide,
She's the model of composure … at least on the outside.
So thank you for this honor,
it's the highest, greatest gift.
And I hope my ode to "Hamilton"
does not cause any rift.
I am touched by your welcome
and your presence speaks loud.
I will work hard,
I will try to make you proud.
Longtime law partner Lansing Scriven closed the ceremony with the benediction, praying for godly wisdom for Judge Colton "motivated by service, by compassion, by humility, by impartiality."