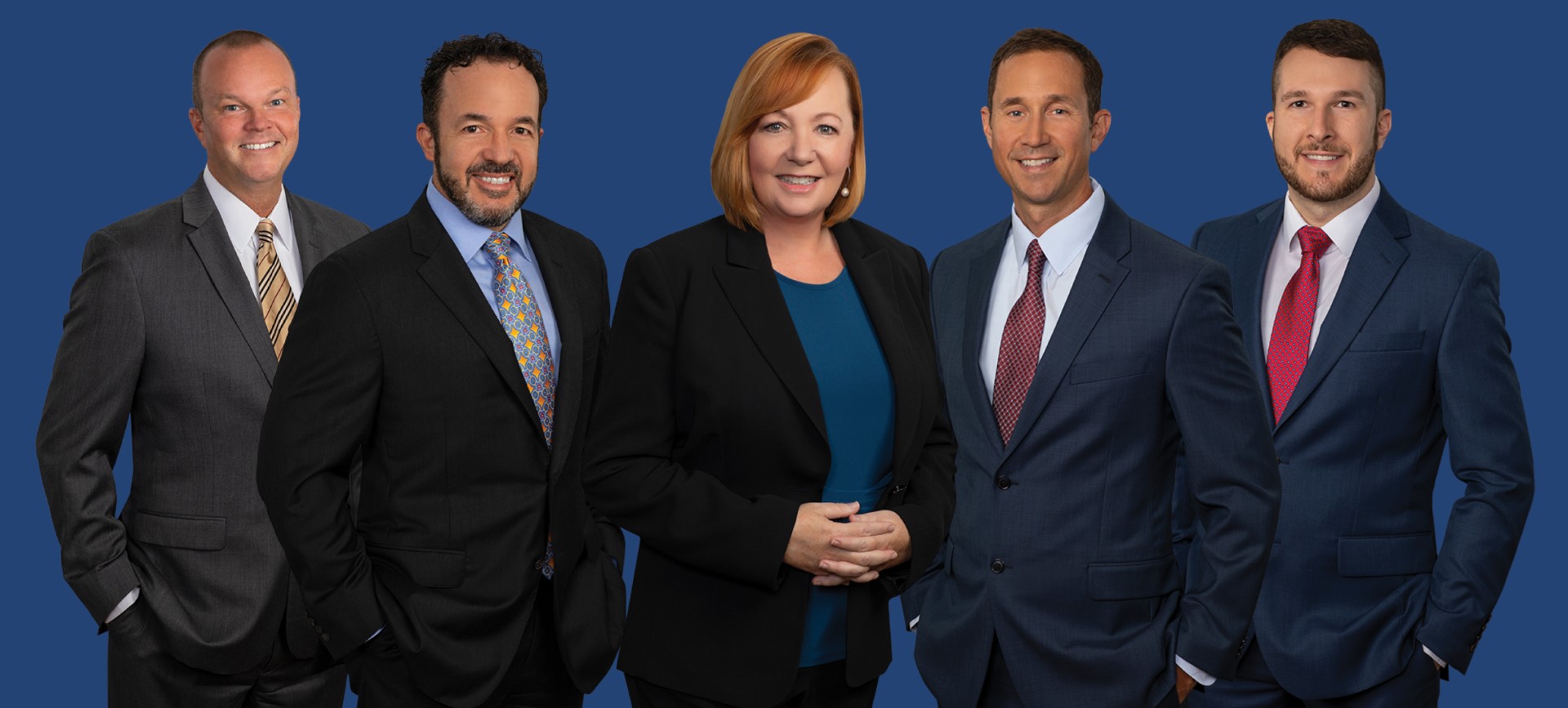 The New Team Members Leave Shumaker's Tampa Office
Trenam Law is pleased to announce the expansion of its real estate and land use practices with five attorneys and two paralegals who have joined the firm.  The five attorneys come from Shumaker, Loop & Kendrick's Tampa office. C. Graham Carothers, Jr., Timothy M. Hughes, Gregory-Scott R. Haney, and Cate Wells joined as Shareholders, and Mathew S. Poling joined as an Associate.  Jennifer Arndt and Dianne Fields joined as Paralegals.
"Graham, Tim, Gregory, Cate, Matt, Jennifer and Dianne have already hit the ground running since starting with the firm on August 1st," said Robert G. Stern, Co-Practice Group Leader of the firm's Real Estate and Lending Transactions Group.  "The Tampa Bay area real estate and development markets are booming.  These attorneys have extensive experience in real estate and land use & zoning and have excellent reputations in the community.  They also bring a new, highly relevant practice area to Trenam – a solar law practice. With such a strong bench of talented attorneys in our group, we're excited to continue to provide these services to our clients in a robust way."
"Although we have practiced at Shumaker for many years and have formed many great relationships there, I am very confident that my colleagues and I will be very happy at Trenam, and that our clients will be as well," said Graham Carothers.  "Trenam's culture, expertise, and collaborative, team-centered approach will be of tremendous benefit to all of us, and provide many opportunities for us to better serve our clients."
Graham focuses his practice on representing individuals and business entities on a national level in a variety of commercial real estate transactions, including the purchase and sale of data centers, hospital and medical office buildings, retail shopping centers, retail bank branches, hotels, and agricultural lands. Carothers also regularly represents landlords and tenants in commercial leasing matters, property owners in complex title insurance matters, developers in condominium developments and conversions, and institutional lenders in real-estate-based loan transactions.  He is rated AV Preeminent by Martindale-Hubbell and is listed in Best Lawyers in America and Super Lawyers.  He received a J.D., with honors, from Florida State University College of Law, and a B.S., with honors, from Florida State University.
Tim has over 18 years of experience representing clients in complex commercial real estate transactions, land development, zoning and land use, real estate financing, commercial leasing and agricultural law.  In addition to his long-standing real estate and land use practice, Hughes has lead, and at Trenam will continue to lead, a solar practice group that focuses on meeting the solar development, leasing and financing needs of developers, lenders, investors and business owners in Florida's promising solar market.  Hughes launched and led a solar practice group in 2016 while at Shumaker (which included all 5 attorneys joining Trenam) and has been at the forefront of Florida's emerging solar market, particularly in the areas of identifying and acquiring suitable project sites and advising clients on legal and regulatory constraints unique to solar development in Florida.  He is rated AV Preeminent by Martindale-Hubbell, a member of The Florida Bar, the St. Petersburg Bar Association, the Florida Solar Energy Industries Association (FLASEIA) and the Solar Energy Industries Association (SEIA), the St. Petersburg Chamber of Commerce (past member of the Downtown Waterfront Master Plan Task Force), current Treasurer and board member of PARC, Inc., Tampa Bay Partnership/CEO Direct Program (Class of 2013) and Leadership Tampa Bay (Class of 2008).  Hughes received a J.D. from St. Thomas University School of Law, where he served as Managing Editor of the St. Thomas University Law Review, and a B.A. from the University of South Florida.
Gregory is a Board Certified Specialist in real estate law. Haney represents clients in multiple industries in their real estate acquisition, disposition and leasing transactions, as well as the real estate portfolio aspects of their M&A transactions.  Haney has 15 years of commercial real estate experience including negotiation, financing, due diligence, title analysis, and all other aspects of asset acquisition, disposition and leasing in Florida and around the country, across all sectors, such as shopping centers, office buildings, medical office and healthcare facilities, warehouse and industrial facilities, and multi-family properties. Having negotiated hundreds of commercial leases for landlords and tenants, Haney also has substantial experience in identifying and negotiating key economic and legal provisions in lease agreements. Haney brings the benefit of a significant prior litigation background to his transactional practice, having litigated for the first 7 years of his legal career in state and federal courts in the areas of construction, leasing, commercial, and bankruptcy litigation.  That invaluable experience has allowed him a broader understanding of how to negotiate and structure real estate transactions for clients in a manner that accounts for potential issues and risks.  Haney is rated AV Preeminent by Martindale-Hubbell.  He received a J.D., with honors, from University of Florida Levin College of Law and a B.S., with honors, from Louisiana State University.
Cate has three decades of experience representing clients in a variety of administrative, regulatory and land use matters before local, regional and state government entities in Florida.  She focuses her practice in areas of land use, re-zonings, comprehensive plan changes, alcohol beverage regulations, code enforcement and government advocacy. Wells' zoning and land use practice ranges from obtaining land use, zoning and permit approvals for developments as large as utility-scaled solar power generation facilities and mixed-use developments to simpler matters requiring a variance, a certificate of authority for rehabilitation of an historic structure, or resolution of a code enforcement issue.
Cate's alcohol beverage licensing practice includes handling legal issues associated with local zoning approvals, state licensure and regulatory compliance. Her administrative practice includes representing professional licensees and regulated entities in licensing and disciplinary hearings before state agencies including the Department of Business and Professional Regulation, Department of Health, Agency for Health Care Administration, Department of Children and Families and the Division of Administrative Hearings.  Wells started her career in the public sector representing the Florida Department of Business and Professional Regulation before various professional licensing boards under the agency's umbrella, including Construction, Electrical Contracting, Landscape Architects and Land Surveyors. During the 10 years she was Lead Prosecuting Attorney for the Florida Construction Industry Licensing Board, Wells directed and supervised the statewide prosecution of licensed contractors and in 2000, served as the Board's Executive Director. In 2001, Cate joined the City of Tampa where she served as legal advisor to various departments and administrative boards responsible for implementing the City's historic preservation, land development, comprehensive planning and zoning regulations. She represented the Variance Review Board, Historic Preservation Commission, Architectural Review Commission, Barrio Latino Commission and City Council. Wells is rated AV Preeminent by Martindale Hubbell.  She received a J.D. from Florida State University College of Law, and a B.A. from University of Notre Dame.
Matt represents clients in the acquisition, disposition, leasing, financing, and use of all types of commercial real estate, including office, medical, retail, residential, agricultural, and vacant properties.  A major part of this practice includes representing clients in zoning and land use entitlements, and environmental permitting matters.  His clients include REITs, institutional lenders, real estate developers, and a range of public and private companies.   Matt also has significant experience handling complex zoning and land use litigation, ranging from regulatory takings to appeals of comprehensive plan amendments, rezonings, and site plans.  Poling received a J.D., cum laude, from University of Florida Levin College of Law, and a B.S., with honors, from University of Florida.
For more information about Trenam's Real Estate and Lending Transactions Group please click here.